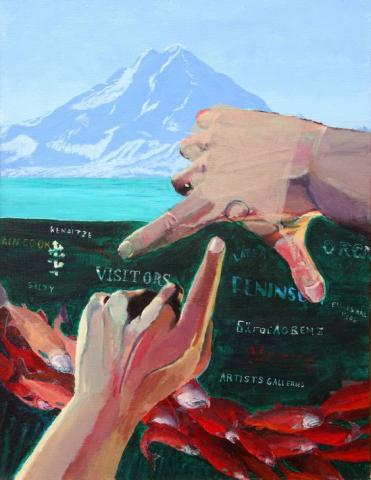 [ image by WillWorks | "It's Around Here" ~ CC-BY ]
Background & Education
I have been doing desktop publishing layout and graphic design for more than 20 years, including much proofreading and manuscript preparation for dozens of different books and journals. Indexing these books became a hobby; in 2011, I took an excellent course at SFU to learn the industry standards (
School of Continuing Studies: Indexing--the Essential Art & Science
) and brush up on the latest (16th) edition of the
Chicago Manual of Style
. I've since worked with a variety of different academic and popular presses to hone my skills in producing accessible, back-of-the-book alphabetical indexes, with breadth and depth.
I use CINDEX and the LibreOffice suite to produce a properly formatted (either indented or run-in) index. I ask for the final version of the pre-press proofs to be sent to me (as a PDF) so that I can ensure the correct pagination. I usually find minor errors as I index, so I will proof-read and submit a list of errata along with the finished index. (I am also an experienced copy-editor, so speak to me earlier in your production workflow if you would like me to do a thorough copy-editing before you proceed to your layout/design stage.) For in-text citations and bibliographic reference style, I'm most familiar with APSA standards, but I can be flexible to your specifications.
Practice
My areas of interest generally lie with the social sciences (politics, history, sociology, criminology, geography, etc.), and most of my work leans toward the popular (lay reader) rather than academic. Still, I can access (and even help to "translate") fairly dense academic and technical writing. I do have some university education, though mostly I'm an auto-didact, so I gravitate towards the commons, to fields of popular struggle and resistance for relevance and new learning. Besides my extensive reading, I've absorbed quite a bit of technical knowledge through years of shared code development projects: I was a founding member of the Tao Communications collective, later, I volunteered with the Riseup collective, among other collaborations & interventions. Thus far, I've mostly engaged on projects with an anarchist bent, including labour/syndicalism, environmentalism, and critical 'justice' studies, but I've experience and reading interests in public policy/civic engagement; Indigenous resurgence & governance; technology & surveillance studies; literary criticism; plus a whole variety of arts, cultural, and open source initiatives.
Books I've Indexed
Manufacturing Phobias: The Political Production of Fear in Theory and Practice (University of Toronto Press) -- About the Book | Index
Democracy, Dialectics, and Difference: Hegel, Marx, and 21st Century Social Movements (Routledge Innovations in Political Theory) -- About the Book | Index {raw format} ]
Cyber Disobedience- Re://Presenting Online Anarchy (Zero Books) -- About the Book | Index
Anarchy & Society: Reflections on Anarchist Sociology (Brill; Haymarket) -- About the Book | Index
Green Syndicalism: an alternative red/green vision (Syracuse University Press) -- About the Book | Index
Beyond Capitalism: Building Democratic Alternatives for Today and the Future (Bloomsbury) -- About the Book | Index
Protest and Punishment: The Repression of Resistance in the Era of Neoliberal Globalization (Carolina Academic Press) -- About the Book | Index
Constructive Anarchy: Building Infrastructures of Resistance (Ashgate) -- About the Book | Index
Law Against Liberty: The Criminalization of Dissent (Vandeplas) -- About the Book | Index
Against All Authority: Anarchism and the Literary Imagination (Imprint Academic Publishing) -- About the Book | Index
Active Anarchy: Political Practice in Contemporary Movements (Lexington) -- About the Book | Index